For some reasons, Search Engine Optimization (SEO) has been very much helpful when it comes to businesses because of its marketing side features. And as much as SEO is concerned, there are different strategies to be done to achieve such goals—and one of which is content marketing. However, there are assumptions that this strategy has slowly been declining. There are agencies with SEO consulting services, which are still thriving and are continuously doing a great job in helping their clients achieve in optimizing their web contents.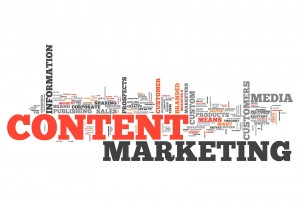 SEO is not the same as before where you can just create websites and produce mediocre published contents and expect to get shares, enough to have links—no. It does not work out that way. Building thousands of links can be tacky and tedious, not mentioning the cost that you have to pay for a worth that is not well deserving. That is why having a strong grasp of knowledge on what a strong strategy you should use is needed and that is to do a powerhouse content marketing strategy.
Why Market 'Content'?
Marketing contents are often done to have certain promotional collaterals be read and be known by the many and your potential targets. With this, you have to make things work in such a way that they can benefit and see the worth of their time. Much to say, content marketing is evolving effectively for SEO.
High-quality content that produces links and shares at a faster pace is not only what constitutes an ideal content marketing strategy, but also on its cost-effectivity. Social media platforms such as Facebook, Twitter, Google+ or Pinterest are just some examples of media that can be effectively used to promote content across the globe. Moreover, B2B marketers have been spending much time creating and delivering quality content for better search engine rankings.
Forms of Content Marketing
As marketing is concerned, contents do not only end on write-ups such as those that usually come in full-length articles. There are entries such as infographics, videos, podcasts, whitepapers, newsletters and the likes, which are seemingly interesting in its nature. These types of contents can help optimize a site because it supports keyword analytics. And to make these contents work out is to relay this information to potential audience, which is why there is also a need in knowing the demographics of your market.
Blog Content Maintenance
To make this content marketing a success not only for SEO purposes but also for your business to reach its hype in terms of ROI, consistently blogging is the best way to have pave a remarkable edge among your competitors. And having Google as the leading search portal in the world not mentioning it has its own ad distribution network and awesome keyword analytic tools, fresh contents produced by bloggers are always rewarded. To ace the rankings, fresh and regular flow of content is always valued that is why making your blog a website full of interesting topics will eventually go viral.
Create Engaging Content
It has been proven that contents with high quality are more to have the exposure and shares it gets. Search engines such as Google always prefer new, informative and fresh contents for user engagement. Keyword analytics and dynamic content focusing represents the best idea behind productive content marketing. Such as the optimization of contents with inbound links that can drive demands and increase in Google's traffic demands, having an impressive content structure and technique will definitely get you to high search rankings.
Word count is also imperative for SEO rankings that is why it also important to analyze this structure. Longer content offers more attraction because of its information that drives attention to people who look for long-term solutions to their queries. With 1,500 words an average, it receives 68.1 percent more tweets and 22.6 more Facebook likes.
Using a keyword analytics tool will also help because there are different types of keywords that represent different levels of interest and intent. There is a need to have proper key wording in search engines to increase a successful chance of being found.
Content marketing is more than just sharing blog posts and articles to get back links. With the passage of time, SEO is becoming more content-centric because of the level of trust that people find on articles especially on the brand that has been built as a resource for consumers.
Tags: