The second link building strategy for 2018 is broken link building.
Broken link (invalid link) building is another white hat method that effectively forms a relationship with other webmasters or website owners. The process is similar to guest blogging. Instead of reaching out to bloggers and webmasters to pitch a high-quality piece of content with anchor texts, it involves resource pages or links with informative, relevant, reliable and timely content. The link builder recommends one or more alternative links for the webmaster. It's essential to include the target sites in the recommendations for the technique to become successful. The more high-quality websites link to your website and target pages, the more likely you rank in the search results.
The process of link building starts with looking at prospecting websites, identifying relevant sites, and searching for 404 pages to replace within those sites. A site with several outbound links has a potential to drive the link building campaign to success. This broken building technique works best with personal blogs and small companies. There's a higher chance these pages contain broken links than well-maintained sites of prominent brands and known companies. After identifying the target websites, content creation follows. Implementation occurs once the link builder contacts the webmaster to be aware of the situation.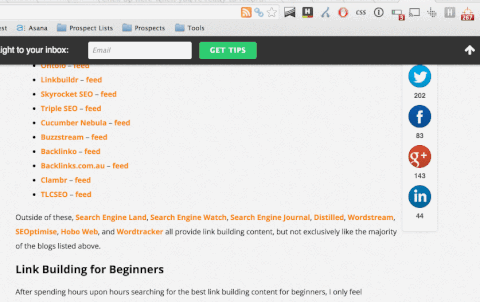 GIF taken from GIPHY
Some SEOs might not follow this sequence as they are responsible for accomplishing a part or half of the job. Either way, there are three types of broken link building to employ for target prospect.
Resource Page Targeting with Keywords
Resource Page Targeting with URLs
Direct URL Targeting
Keyword Link Building
Targeting keywords is as straightforward as it comes. Most link builders rely on this method as it expands contact base through the outbound links of a website. To do this, search relevant keywords on Google. The keywords must be part of a category but still relevant.
Refrain from being specific and aim for general terms when culling for keywords. Pair these keywords with prospecting phrases from Google search. Doing this helps you find linking prospectives. Make a list and compile all of your findings.
To narrow down the results, you can use the Duplicate Deleter tool or the remove duplicate function in Excel. Once you have a list of potential linking pages, begin looking for error pages. Tools like Domain Hunter+, Check My Links or Link Miner does the job in a short time. After all of this, verify whether or not they are 404 pages. Use the HTTP Status Code Checker.
Half of the job is looking for the error pages and extracting them. The link builder must comb through the links for relevant pages from his or her site to replace the broken link after contacting the webmaster. Using Broken Link Building from CitationLabs streamlines the process and proceeds to the last part – informing website owners of 404 pages.
Resource Page Targeting with URLs
A purpose of site or URL selection is to link from relevant online directories. Remember, there are there are thousands of sites in a niche or industry. Thus, you have to find which one makes the link building efforts worthwhile. An authoritative and non-commercial site is ideal for broken link building. These websites will have resources with various 404 opportunities.
Targeting URLs has the same steps as keyword link building. One way to find resources page is through Google search. The queries below are useful for hunting potential pages.
Resource page queries:
"Keyword" + inurl:links
"Keyword" + "helpful resources"
"Keyword" + "useful resources"
"Keyword" + "useful links"
Resource page targeting with URLs focuses on the inbound links of the site. Curate a list and do as you would with keyword link building. Both resource page targeting with keyword and URLs require content that fits the page to link from.
Direct URL Targeting
This technique doesn't need a broken content. There is already a link prospect, and all that's left is to find the 404s in the site. It's the least scalable of the three strategies. Still, it's a great conversation starter between the link builder and the website owner.
There are tools to use to check out the links on a given site. Xenu Link Sleuth, Screaming Frog SEO, and Deep Trawl are all recommendable website crawling tools. After exporting links, choose broken external URLs over internal ones. Always go for the most relevant ones. Utilize the chosen site's resources section. It is also a useful technique for targeting a competitor's website. It is excellent tactic if the goal focuses on increasing outreach.
The tricky part of broken link building lies in the content creation. The resource page can be a match or an improved version of the broken page. Unfortunately, there's a chance that the content you will replace has greater authority, or more informative and trustworthy. Therefore, the link builder must go an extra mile to improve the content to pitch. Examining the traces of the previous content by checking its relevance through various tools lessens the pressure of creating content.
Broken link building can be trimmed down to three words:
1. Prospect
2. Content
3. Outreach
Identify relevant prospects and trim them down to those with high DA. Create content for the people while thinking of Panda algorithm. Include citations too! Last but not the least, be polite when reaching out. Remember, simple thank you from one digital marketing agency to another can be the start of a long relationship.