SEO Philippines is regarded as an extended marketing arm of any company, and for good reasons. For one, SEO impacts the overall branding strategy. In June 2014, Google released a study entitled 'Search Ads Lift Brand Awareness,' solidifying the branding benefits of SEO. In this Digital Age, more and more companies are tapping into the benefits of appearing on results pages. Nonetheless, they tend to overlook the immense benefits of search advertising.
Search advertising explained
In digital marketing, search advertising refers to the method of placing ads on search engine results page (SERP). Search ads usually appear at the top, beside and below the organic search results. Search advertising is possible through the advertising services offered by the search engine. A common example is Google AdWords. See below.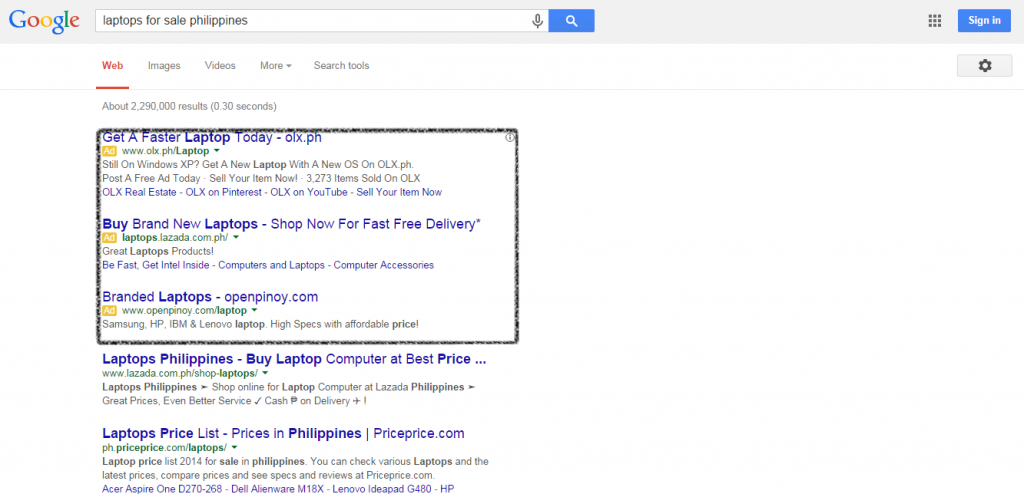 Search ads are highly targeted wherein Google displays the ads to match the search terms entered. Consumers can use Google, for instance, in identifying and comparing purchasing options before deciding to buy. As such, Google presents online marketers an opportunity to display ads that are tailored to the immediate buying interest of the consumer. Such targeting capabilities make search advertising more attractive for online marketers.
The study in a nutshell
As Google puts it, search advertisements are for direct response. After the study, Google confirmed that search advertising impacts brand perception and awareness. In fact, those brands that appear on displays become the top-of-mind brands among the users by 6.6 percentage points on average.
Google tested the impact on branding on different categories from automotive to retail. In the consumer packaged goods category, the percentage points are even higher (11.1 percentage points).
The meta-analysis involved 61 studies across 21 verticals, and 800 qualified consumers. Participants are shown a Test and a Control SERP with the test brand at the top position of the ad displays.
What does this mean for brand managers?
Simple. Don't forget that users searching for a particular brand, product or service are already on a highly receptive mindset. If your brand appears at point of search, there is a strong likelihood that this user will remember your brand name. So, the more you will expose users to your brand, the more they will recall your brand.
Search listings above the fold receive most of the attention based on eye tracking studies. Good thing search ads are visually presented, so that you would know which are ads and which are organic results.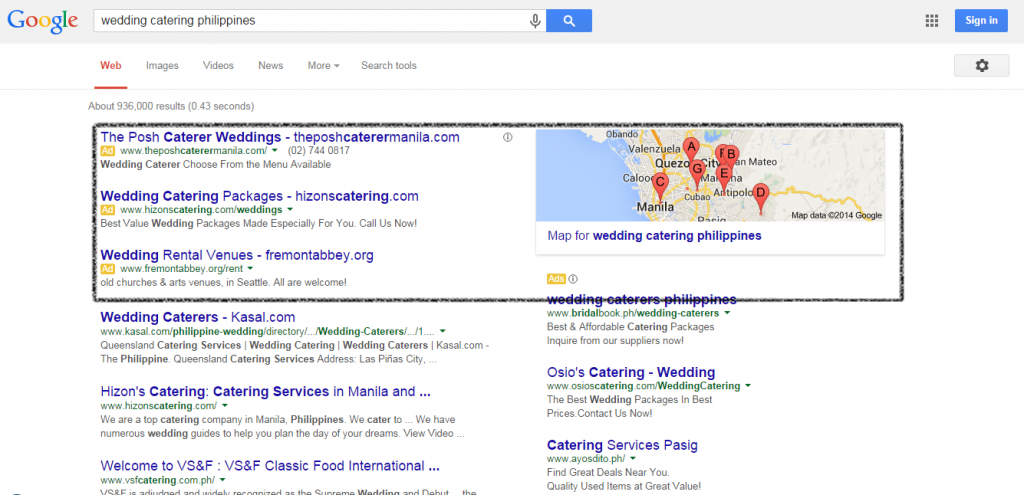 Possibly, strive to be at the ad displays above the fold. Unfortunately, brands has no control over where they will appear in the SERP (above, on the side or below). The reason for stronger recall is seeing the brand at least twice in one viewing: one on the ad display and another on the organic search. That is, if the website appears on the top 10. Nonetheless, they will still see your brand even if it doesn't appear on the organic search.
Brand awareness increases by up to 30% when the brand appears on both ad displays and organic search compared to when the brand only appears in organic search (10%). Unless your brand is satisfied with the 10% increase in brand awareness increase, there is no need for search advertising. However, if you think your brand will benefit more with 30% increase (which it surely will) then consider doing search advertising.
With over 3 billion searches occurring on a daily basis, it is high time that you take into consideration further increasing brand awareness by appearing on ad displays. Simply, search advertising must now be included in your marketing portfolio. Integrating search advertising could be one of the most strategic decisions you will ever do for your digital marketing initiatives!