As much as marketing is concerned, social media has been one of the key role players that help a company strengthen its online presence. Not mentioning being hand-in-hand with Search Engine Optimization or having a guaranteed SEO strategy that often occurs whenever one does SEO consulting services.  Well, so much for that, let us focus more about social media.
Having known its potent power of attaining much fan base for a company and even with a better marketing strategy, there is still a need to create more engaging campaigns because there might be instances where people wanted to want more new and fresh campaigns.
In this article, there will be three tips wherein one can boost its campaign to be more successful.
#1: Building the Right Campaign
First thing off the list is, you need to choose what best campaign you can use to drive enough fan base and hits. There is a wide array of social media campaigns—voting contest to newsletter signups to interactive quizzes—and everything in between, that you can make use of.
A lot of different campaigns deliver different results, so before starting off, have a clear idea of what kind of output you want to achieve. Having those goals in mind, research more and choose the type of campaign that works for you, and eventually with the help of a few trusted minds, decide on how you're going to build it.
Have this also in mind that the amount of people accessing the Internet using mobile devices is increasing, so look for a service that builds campaigns that are responsive. And when you have this planned and ready for social media marketing, you can also opt for the services of an SEO company.
Brainstorming helps, so gather up your marketing skills and creativity to make this a realization!
#2: Action-Gating
With the popularity of social media such as Facebook, it has been a hub to run campaigns among companies. But an announcement from Facebook that they will no longer allow like-gating as a common practice which took several years and helped a lot of businesses, groups and companies grow their fan count consistently.
An option though is action-gating. It is when you ask users to do something like perhaps, vote or share their email address, to be able to get something from your brand. Some enticing examples are getting an extra entry into a giveaway or access to a promotion or in this case, of a band's free songs.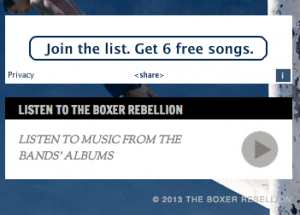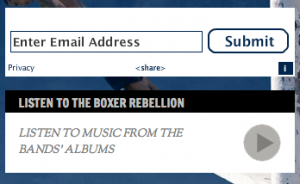 Image Courtesy of theboxerrebellion.com
This is one strategy that often gets the most fan hits because of the return that they can get after doing such an effort of giving up information. Action-gating allows you to gather and track the precise return on your brand's efforts as well. It also makes promotions and offers available to everyone.
It is a very attractive alternative to like-gating and provides a bit of value to your offer which actually works anywhere you would like to run a campaign.
#3: Getting The Word Out
It is known that seventy-five percent of a campaign's success is due to promotion. And there are actually lots of ways to promote a campaign. This does not often cost as much because they are existing resources like your website or your social profiles. On another note, again, SEO can help with getting the word out especially when it comes to dealing with search. More often than not, you would also need to have your websites gain rankings, right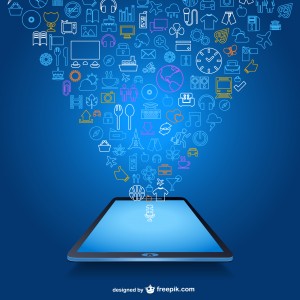 Going back, you have to design your campaign with sharing features that are built in and give incentives to people who share by rewarding them with extra chances of winning. As much as possible, make it easy for people to tell their friends even if you are primarily running the campaign of Facebook and want people on Google+ and Twitter know about it.
You can also use tools that help easily create and install header notification to broaden your reach by telling your website audience about the campaign. Once you have already done this, you may offer a prize to your targeted customers, which you think can help you increase your brand recognition. Moreover, your price should match to the level of effort it takes to enter.
So there you go, these are just some tips wherein you can be successful in your social media campaign. And perhaps with the help of SEO, it could reach you to greater heights!
Vector Images Courtesy of freepik.com