Did you know that over 90 million tweets are generated globally at a daily basis?
Whereas most of the social media platform gives you the leeway to craft long content with combined text and images, Twitter lets users summon their creativity on expressing their thoughts in just 140 characters.
It's technically a place to have a glance at what people are actually saying.
So if they've expressed their need for the service you offer, who cares if they belong to your market's demographic?
One-click Twitter Search
Compared to the ever-popular Google search engine which can pull out a rather huge volume or relevant results, Twitter makes the search faster for any internet marketing agencies.  All you need to do is to:
Go to search.twitter.com
Input on the search box: "need + (your product/service)" or "I want + (the product/service that you offer)
Click Search.
You'll be surprised by the volume of people around the world who are practically begging for your service. One great thing about Twitter search aside from their concise and direct message is their real-time results.
Let's take a closer look…
Say for example that you own a web development company or maybe someone who's working as a marketer for them.  Your primary target for any campaigns include start-up companies, small business entrepreneurs, organizations who wish to reach more sponsors through an official website and more.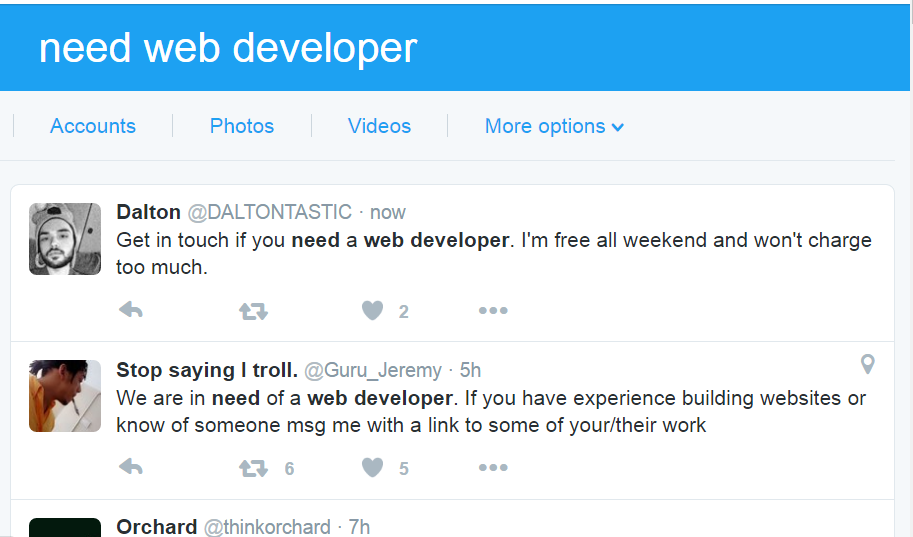 Researching for your market's demographic helps. But Twitter offers a better, faster alternative.
Searching for keywords like 'need web developer' points you directly to entities around the web who want what you offer. They're all there, seeking your attention. It's now just a matter of taking the first step to get in touch with them by dropping a short private message!
Making the best out of the keyword power
Much like the search engines, Twitter also makes use of keywords for filtering. Therefore, it's very important for marketers to have a list of relevant words for the product and service they offer.
Taking the example of a web development company, one can play along the following keywords:
Blogging
Content marketing
Content writing
SEO service
…and so much more.
Just make sure the words you use are part of the overall package you offer. By playing along with these keywords, you get to reach more potential customers online.
But why Twitter?
We've got all sorts of marketing arenas found online. From popular social networking sites to personal-run blogs, there's an immense opportunity to get your product out in the open for free!
But why Twitter when it's only limited to allowing you few words of marketing pitch when in the first place there more flexible and media-packed tools at your disposal?
 Immediacy and relevance
With the volume of information presented to us online, marketers are faced with the  daily challenge of providing knockout content coupled with strategic social media  sharing to draw the attention of their target market.   Plus, there is that issue of the  people's attention growing more fleeting as we speak.
The standard 140 character limit in Twitter solves the issue of falling into a rather  dragging content and encourages marketers to strike directly and on-point to what  their  market needs in a creative, relevant and urgent tweet!
 Bottom line…
Timing is a critical factor in marketing and the fastest who respond gets to have the  upper hand.  Identifying your target market's demographics remains an essential part of  creating your message right.
But as the old adage states, 'There is always an exception  to any rule,' online marketers cannot just miss the chance to promote their service direct to individuals who are openly asking for it.
Enjoy a one-click, target market search and promote your product or service!